Help is coming. Not a lot. But hopefully enough.

Help Is Coming
The federal and state governments, ATO and Reserve Bank are all implementing measures to help your business cope with COVID-19. Here is what should be coming your way – current as of 14 April 2020.
Federal
Here is what is on the table:
1

–

Job Keeper Payment
$1,500 per fortnight for each full-time, part-time and long-term casual employee.
2 – 50% Cash Flow Boost
Cash flow boost of at least $20,000 up to $100,000 depending on your PAYG withholding from Jan to June 2020;
3 –  Instant Asset Write-Off
An instant asset write-off of $150,000 until 30 June 2020;
4 – Investment Incentive
50% deduction for any asset purchased by 30 June 2021;
5  – Apprentice and Trainee Wage Subsidy
50% wage subsidy for apprentice and trainee wages til 30 Sep 2020
NSW
All Australian states and territories have announced COVID-19 stimulus packages. Here is what NSW offers:
6 – Waiver of payroll tax
No payroll tax from 1 April to 30 June 2020;
7 – Raise of payroll threshold
The payroll tax threshold increases to $1m from 1 July 2020.
8 – Small Business Support Grant
Up to $10,000 for businesses that are not subject to payroll tax.
ATO
The ATO has announced that you can request a:
9 – Reduction of PAYG instalment for the March quarter to nil
10 – Refund of PAYG instalments already paid for this financial year.
11 – 4-months deferral of BAS, PAYG I, FBT and excise payments
Reserve Bank
And the Reserve Bank of Australia (RBA) is trying to get you the finance you need at an affordable interest rate, so that you can receive:
12 – Rate cut via your bank due to a cut of the RBA rate
13 – Extra funding through your bank from a $90b funding facility
14 – Extra funding from non-bank lenders from a $15bn funding facility
Australian Banking Association
15 – Banks are not to push for repayment of $100bn in business loans. 
The above is only a short summary, but a lot of the if and when won't affect you, for example the $500m turnover threshold.
Just call me on 0407 909 779 if you want to talk this through.
MORE
Disclaimer: numba does not provide specific financial or tax advice in this article. All information on this website is of a general nature only. It might no longer be up to date or correct. You should contact us directly or seek other accredited tax advice when considering whether the information is suitable to your circumstances.
Liability limited by a scheme approved under Professional Standards Legislation.
Last Updated on 14 April 2020
You might also like
Cloud Accounting Software


Small Business CGT Concessions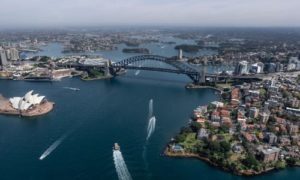 We look after the tax and accounting of your business, wealth and SMSF. We are Chartered Accountants and Registered Tax Agents in Australia and IRS-registered CPAs in the US.
TALK MORE
Got a question? Just call, email or use the contact page.
Our email address is all@numba.com.au.
We are also part of Australia's podcast for accountants - Tax Talks.