Cloud Accounting Software
Moving to a cloud accounting software won't be the most important decision you will ever make for your business. But it will set the tone.
Cloud Accounting Software
"The Cloud" sounds complicated and high up in the sky. How can software 'live' up there? 
The Cloud is Just Somebody Else's Server
It doesn't. Cloud is just another word for somebody else's server. It just means that the software is no longer stored on your but their server. 
Think of online banking. When you log into your bank account, you really log into the bank's server. And the same is true for your cloud accounting software: When you log into your account with Xero, you log into Xero's server (or server space Xero rents). 
Is it safe? It is as safe as online banking. So for most of us that is safe enough.
Which Software
In Australia Xero is currently the market leader. Not because it is perfect. But because right now it is the best solution for many with the largest range of integrated apps.
A lot of established Australian businesses use MYOB because that used to be the most popular accounting software in Australia – when software still lived on your desktop or server – and so they stayed with MYOB – for now.
Then there is Quickbooks, Sage, Handisoft, Reckon and a few more. All these charge a fee.
But there are also some free softwares out there. The most popular one is Wave. Not ideal, but definitely better than an Excel Spreadsheet.
Why the Cloud
Why not just stick to the software you have on your desktop? Why move into the cloud?  Here are 12 reasons why.
1 – Bank Feed
Bank feeds are easy in the cloud. You will never ever have to key or manually upload your bank transactions again. It is all there.
2 – Bank Rules
You set a rule how you want a certain transaction to be booked. And then the software does this for you. Will save you time.
3 – Software Updates
In the cloud, you no longer need to load new software onto your computer or deal with different versions. It all happens seamlessly behind the scene.
4 – Monthly Fee
You no longer pay upfront to get your software package. You just pay a monthly fee – much easier on your cash flow.
5 – No Lock In
You can switch from one software to another. It may be tedious, but you are no longer locked into a contract.
6 – Access from Anywhere
You don't need to be at your computer to see what is happening in your business. You can check your data from anywhere in the world.
7 – Team Work
Others can work on your accounts without you having to send files backwards and forwards. It all sits in the cloud.
8 – Invoicing
If your supplier or clients are on Xero, you can send and receive invoices straight from one accounts receivable and payable to the other.
9 – Payment
With the right set up, your customers and clients can pay your invoice directly through the click of a button on your invoice.
10 – Payroll
If you have employees, you need to transfer to Single Touch Payroll (STP) and that really only works in the cloud.
11 – Backups
In the cloud you don't worry about backups. Your software provider does.
12 – Customisation
You can tailor the apps around your accounting software to the exact solution you need.  Like building a house with lego blocks. 
———-
So this is our homage to the cloud. A huge step forward. Got stuck? Just call me on 0407 909 779. I am Heide.
MORE
Small Business CGT Concessions
Disclaimer: numba does not provide specific financial, legal or tax advice in this article. All information on this website is of a general nature only. It might no longer be up to date or correct. You should contact us directly or seek other accredited tax or legal advice when considering whether the information is suitable to your circumstances.
Liability limited by a scheme approved under Professional Standards Legislation.
Last Updated on 17 August 2020
You might also like
NSW Payroll Tax


Help is Coming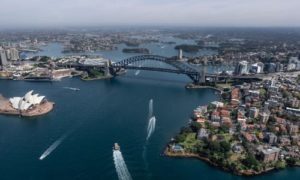 We look after the tax and accounting of your business, wealth and SMSF. We are Chartered Accountants and Registered Tax Agents in Australia and IRS-registered CPAs in the US.
TALK MORE
Got a question? Just call, email or use the contact page.
Our email address is all@numba.com.au.
We are also part of Australia's podcast for accountants - Tax Talks.